Lynx Touch Wireless Alarm Panel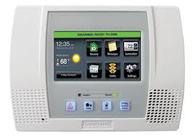 ---
The Eagle Eye Security team provides complete security sales and installation, and comprehensive monitoring services for residential and business clients. We are dedicated to providing our customers with state of the art Eagle Eye Security Inc. is a family owned and operated business located in Dayton Ohio, with over 50 years of combined experience. Our highly trained staff is dedicated to just one thing, providing you with the most reliable services available at an affordable rate.

Call Eagle Eye Security Inc. today at 937-277-9076 and let us show you that your home or business will receive the most reliable service that the industry has to offer.

We will always answer your calls with a live operator, and in case of alarm activations you will ALWAYS receive a call from a live operator not a recording.

We will not sell your account to a third party; we will not give your information to telemarketers.

Eagle Eye Security Inc. provides

· Service most brands of security systems
· Local monitoring
· Low monthly rates
· Short term agreements available
· Residential and Commercial Burglary, Fire Systems
· Personal Emergency Response Systems
· CCTV Camera Systemsonitoring services with the best customer service available 24 hours a day.We have over 100 years of combined experience in all facets of security service and monitoring of security systems. Our clients and their peace of mind is our number one priority.

Our highly trained staff at Eagle Eye Security and our monitoring station is dedicated to one thing, providing you with the most reliable monitoring services available.

Our central station and services are second to none in the industry, we have a triple redundant computer system utilizing only Dell Computer servers. Our monitoring software allows us simultaneous access for monitoring, data entry and any information for our clients.

So whether you're at home, work or just away, you can trust that you are receiving the best possible service from our professional staff.